Summer Evening Corporate Events
We've got it covered by adding a roof to our outdoor space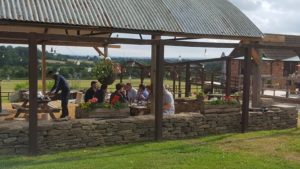 and all is right with the World!   Our pizza oven was always a little conspicuous out in the open so we have added a new crinkly tin roof to make the space useable in all weathers.   It will eventually become a purpose built room for birthday parties so watch this space evolve over the next few months.
It is perfect if you are having corporate events in these balmy summer evenings and we have twinkly lights up to make it special.  Even if the forecast is rain we can offer all our areas shelter.
If you are looking for an event to run after work as you need to man the office in daytime hours then this is the perfect venue.   We are situated close to Junction 17 of the M4 which makes us not far from both Bath or Bristol.    Our licensed bar can be open as long as required – just call us on 01249 730388 and ask for Pete Johnson.    Let him know what you are looking for and he can sort out the event to suit what you are looking for – may be include several activities as we can run longer into summer nights – all we need is daylight.