We are a magical place letting you capture your imagination and take your hen party to new heights. Choose from a variety of activities to guarantee your group enjoying fun, laughter and making those special memories. Why not combine activities together, choose a picnic lunch and then enjoy some of our partner companies including Crafty Hen where you can all make something fun like garters or fancy knickers or bunting that you can then display on the wedding day (the bunting, not the knickers!) or how about some Belly Dancing for that truly unique experience!
Bullet 'n' arrows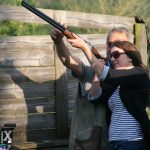 Duration 1.5 hours
Choose any 2 country sports and see if that bride to be can show up her hen's by taking the lead and winning on the day! You might like to try Clay Pigeon Shooting and Archery or any combination that you like.
If you have more time why not add on a motorised sport like Quads or Buggies? Just call us and ask for costs.
£60.00 per person
Mud and Dust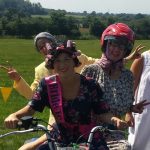 Duration 2 hours
Take out our Honda Off-Road Buggies and also our Quad Bikes on our events field on the specially prepared course to all let your hair down and see who is the fastest Hen on the planet! We supply all the necessary safety equipment and full instruction before you take off. A prize for the bride-to-be will finish the event off nicely.
£65.00 per person
Maid Marion's Weapons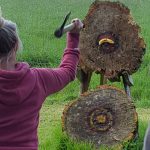 Duration 2 hours
Come on hen's what are you waiting for – take up your arms and show us how skilful you are. You all get to experience Archery, Cross-Bow Shooting and Axe-Throwing within the session with a special prize for the bride to be.
£75.00 per person
Annie Get Your Gun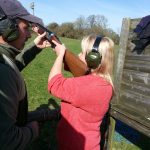 Duration 2.5 hours
You get to have a go with Clay Pigeon Shooting, Rifles and Air Pistols in a fun packed session with everyone getting to shoot their hearts out with a prize for the winning shot of the day. There is also a special little prize for the bride to be…
Each Hen gets 25 clays, 25 cartridges and 50 pellets.
£100.00 per person
Other Options Available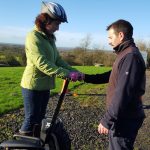 Duration 2.5 hours
Buggies, Quads and Segways
£90.00 per person
Duration 1.5 hours
Blindfold 4×4 and Reverse Steer 4×4
£50.00 per person
Duration 1 hour
Segways
£50.00 per person
Hen Party Half Day Example Itinerary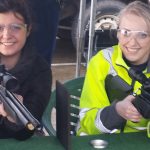 10.00 Arrival. Hot/cold refreshments
10.30 Sign disclaimers, split into 2 teams and begin activities spending 40 minutes on each.
Activity 1 – Quad Bike Skills Course – Practice and individual timed laps
Activity 2 – Blindfold 4×4 Driving – Using a "special" language of animal noises the 3 navigators direct the blind driver around the flagged course… hilarious fun!!
11.10 p.m. Swap activities.
11.50 p.m. Both teams come together for a finale on one activity – Quad Bike Pit Stop Challenge
12.30 p.m. Finish activities.
Prize giving & refreshments
Depart
Give us a call to discuss your requirements and to check availability.
Add-On Activities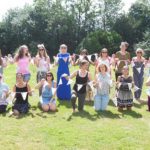 Crafty Hen
When you book activities at Owl Lodge why not make a whole day of it and after the buzz of outdoor activities, come in and have some lunch and then spend the afternoon chilling by making some fun things with Crafty Hen. Some of the activities with Hen Parties in mind are:
Garter making
Fascinators
Corsages and accessories
Vintage options
Bunting – which you can display on your wedding day
The minimum group size required is 8 and with no maximum number the sky's the limit! So let us know which activities you would like to combine it with. Why not look at the Maid Marion shooting package for shooting or the ** for the speed of racing?
You can find more information about this crafty company by clicking here. If you would like this to be part of your hen day then call Pete on 01249 730388 and add it to the itinerary. This sort of team building activity would also work for corporate groups – look at our Team Building page to make this happen.
Add-On Activities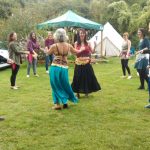 Belly Dancing
We went out and looked for some extraordinary activities that would compliment ours and provide you with a unique HEN experience. So as part of your crazy hen event why not team up our activities and add on Belly Dancing – with Waffaa Powell. She is a fabulous teacher and has her own website for more information. She supplies the bride with a costume for the day and all the other hens get jingly belts. Let her teach you all the bellydancing moves and put together a routine which takes about 1 ½ hours to run. Min group size 8 – no max!
If you are coming to us for a whole day of activities we can work it so that she comes to Owl Lodge and if you are a large group has half in the morning and half in the afternoon with the other half of the group taking part in the activities of your choice. She is also the most excellent Lebanese cook and if you wanted to get some real spice into your event she can also supply the lunch time catering. For more information on how this would work for your special hen weekend call us on 01249 730388 and we will do the rest.
Testimonials
I just wanted to say a big thank you to you and your colleagues at Team Pursuits for making our morning spent at the centre such a great experience. We all loved the activities and felt very relaxed and welcome from the moment we arrived. We also thought your level of safety was perfect, at no point did we feel we weren't in safe hands but at the same time you made us feel like it was fun and not all about safety. The venue location is also brilliant, beautiful views and lots of space. Thank you again from me and all the girls, they thought it was the best part of the weekend. I would 100% recommend you to anyone looking for a fun day around bath - Abi