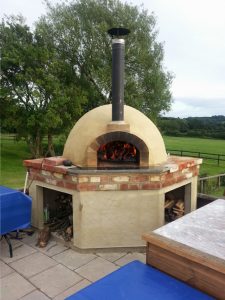 Corporate catering a speciality for all types of event and activities at Owl Lodge – call us to discuss in depth your requirements.
We can offer all types of catering as we have a fully fitted kitchen, and can supply any, or all of the following by prior arrangement:-
* Bacon Sandwiches or Pastries & Muffins with Coffee & Tea on arrival
* Mid-morning Coffee/Tea & Biscuits
* Buffet Lunch, Barbecue (weather permitting) or a pre-arranged Pub lunch in the village
* Afternoon Tea/Coffee & Biscuits or Cakes
* Private evening dinner
* Pizza Oven
* Hog Roasts
We have been working with Royston Lyons of Lyons Catering for many years and he has always provided our clients with the most professional experience from start to finish. He has extensive experience from large corporate functions to small finger buffet menus and he makes the perfect pizzas in our pizza oven. Whatever you have in mind he will be able to come up with the menu to suit.
We are also working closely with Peter Vaughan of Vaughan's Kitchen who are based locally in Devizes and has an excellent reputation for providing amazing food for corporate events and weddings.   He has experience of cooking at Owl Lodge and has specialist knowledge in supplying food to suit all tastes and especially gluten free options.
We have worked closely with Sue Mitchell from Chestnut Caterers for many years and can handle any size event that you might have.   Her menu options are all set out on her website, just follow the link on the company name.
Other caterers used…… 
There are several smaller caterers that are local to us and are suitable for not only smaller groups and smaller budgets, who are perfect for Hen Parties that might want to eat with us if taking part in a whole day of activities.  We are looking into offering picnic baskets with delicious goodies inside –  if you think this might be something you would be interested in please ask us for more details and we will source this for you.
Wedding Catering…
Owl Lodge is the perfect venue for weddings and we have years of experience in providing the perfect wedding to suit your budget so we have lots of options available to make the catering perfect on the day.   For information on our wedding options please see our dedicated wedding site.